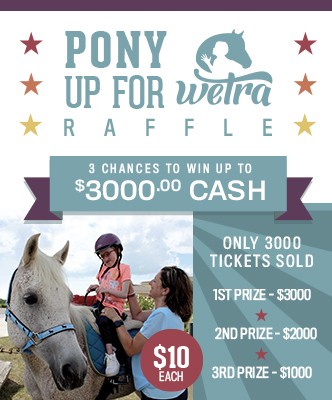 Congratulations to our Pony Up for WETRA Raffle Winners!
1st prize of $3000 went to Ainsley Temple
2nd prize of $2000 went to Melanie Oliver
3rd prize of $1000 went to Terri Raymont
Proceeds will be used to improve the quality of life for persons with physical, mental, and emotional challenges through equine related therapy.
Thank you for your support!
Equine Therapy Benefits Everyone
The physical, emotional, cognitive, and social benefits of therapeutic riding are all encompassing for riders, volunteers, and family members that are involved in the specialized and meaningful programs offered at the Windsor-Essex Therapeutic Riding Association (WETRA).
Through EAAT (Equine Assisted Activities and Therapies), participants can gain a sense of freedom and independence, learn new skills, interact socially, experience unique accomplishments and create emotional connections with horses and people that offer acceptance and unconditional affection and create bonds that can last a lifetime.